In Italy there are numerous abandoned small towns that can be found in the impoverished and seismically active portions of the Southern regions, but you can also find them in regions like Liguria, Emilia Romagna, Tuscany and Lazio.
Craco
Due to earthquakes, landslides, and war Craco's population moved to North America between 1892 and 1922. In 1963 a landslide caused the evacuation of the remaining 1,800 inhabitants to a nearby valley.
Pentedattilo
This ghost town is located on the Monte Calvario, whose five strange pinnacles look alike of five fingers, hence its name "five fingers" from the Greek penta and daktylos.
Romagnano al Monte
The village of Romagnano al Monte was actually destroyed in the Irpinia earthquake of 1980 and rebuilt a few kilometers away. The ghost town is now a tourist attraction.
Roscigno Vecchia
The tiny town of Roscigno in the province of Salerno is divided into Roscigno Nuova and Roscigno Vecchia, which is 1,5 km away from the new town and completely abandoned since the 20th century.
Tocco Caudio
This village was abandoned after numerous earthquakes in 1980 and 1981, which almost entirely destroyed the old Tocco Caudio and the citizens were forced to completely abandon it and find their new homes around the ridge.
Gattara di Casteldelci
A peculiarity of this village is that until 2009 it belonged to the Marche region, until is was separated together with six other communes and joined to the Emilia Romagna region.
Celleno
This village is located in the Province of Viterbo. The origins of the village are unknown until today, but it was there is a theory that it was actually founded by the Etruscans.
Monterano
The "ghost town" of Monterano is part of a large nature reserve and it is popular for its extraordinary atmosphere and beauty. It was also the set for famous movies such as "Ben Hur" or "Brancaleone alle crociate".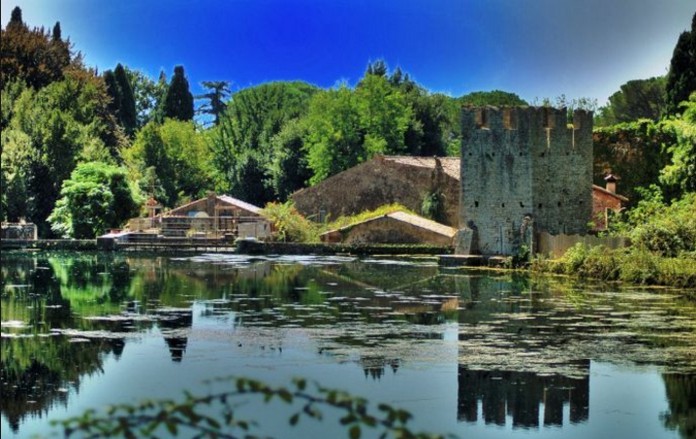 Giardino di Ninfa
Ninfa is a deserted ghost town, founded by the Volscians, that is now an English style botanical garden. It was destroyed a first time by order of the Emperor Frederick Barbarossauge.
Balestrino
In 1953 the town was completely abandoned because of geological instability. The remaining inhabitants were moved to a safer area to the west of the original town.